Are you a thrill seeker and adventurous person? Are you planning to visit Goa in your upcoming vacations? You have landed on the right page as here we are going to tell you about water sports activities in Goa that will fill your vacations with adventure and thrill.
Goa, the sunny coastal paradise of India, is not just famous for its beaches and night parties but also for the thrilling water sports it offers. With its serene Arabian Sea coastline and favourable weather, Goa is the perfect destination for water sports enthusiasts. If you're planning a trip to this beautiful state, here are some water sports in Goa that you must try.
Contact us for booking a stay in North Goa: +91 9359983588
Top Water Sports Activities to Enjoy in Goa
Jet Skiing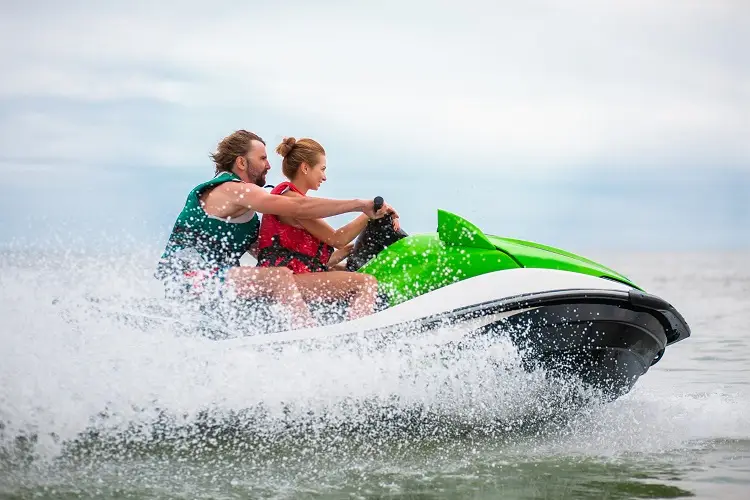 Jet skiing is one of the most popular water sports in Goa. It offers an adrenaline rush as you zoom across the water on a high-speed personal watercraft. Whether you're a beginner or an experienced rider, the Goan beaches have options for everyone. Don't miss the chance to feel the wind in your hair and the splash of seawater on your face as you jet ski along the coast.
Parasailing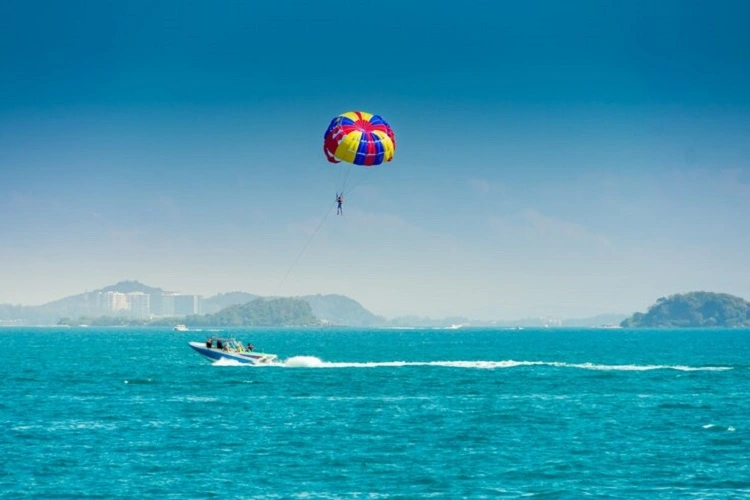 Parasailing is an activity to do in Goa that lets you soar high above the sea while being tethered to a speedboat. The panoramic view of the coastline from above is breathtaking. Goa offers various parasailing options, including single and tandem rides. It's a fantastic way to experience the thrill of flight and enjoy the stunning views.
Scuba Diving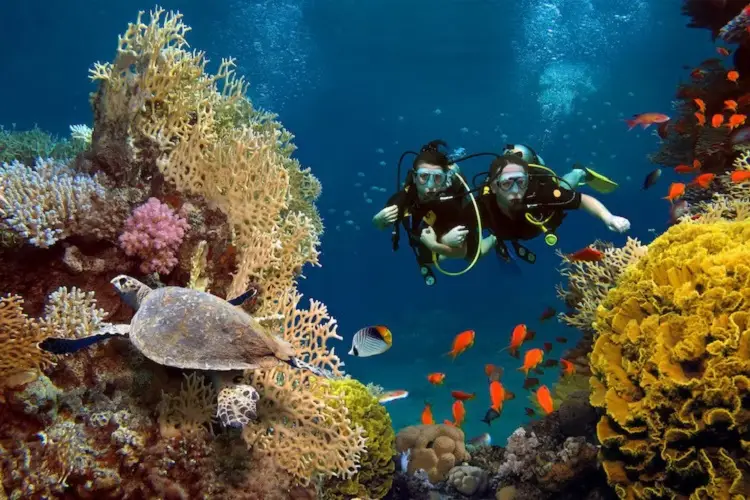 Goa's underwater world is teeming with vibrant marine life and beautiful coral reefs. Scuba diving in Goa allows you to explore this hidden world. You don't need to be a certified diver to participate, as many dive centres offer introductory courses. Witnessing the colourful marine life and exploring the underwater architecture is an unforgettable experience.
Snorkelling

If diving seems too intimidating, snorkelling is a fantastic alternative. All you need is a mask, snorkel, and fins to observe the underwater beauty of Goa's coastal waters. Snorkelling is perfect for all ages and skill levels, making it a great family-friendly activity. Explore the hidden treasures beneath the waves, such as colourful fish and fascinating corals.
Banana Boat Rides
Banana boat rides are a fun group activity that is bound to make you laugh and scream in delight. Climb onto an inflatable banana-shaped boat and hold on tight as it's towed behind a speedboat. The aim is to stay on as long as you can as the boat bucks and sways in the water. It's a hilarious and exciting experience, perfect for friends and family.
Kayaking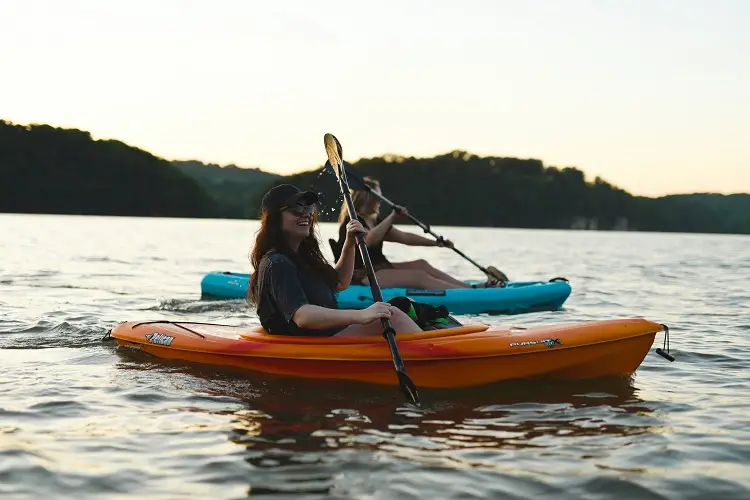 For a more serene and nature-oriented experience, kayaking in the backwaters and mangroves of Goa is a must-try. Paddle through calm waters and observe the rich biodiversity that thrives in these ecosystems. It's a peaceful way to connect with nature and enjoy the serenity of the Goan countryside.
Windsurfing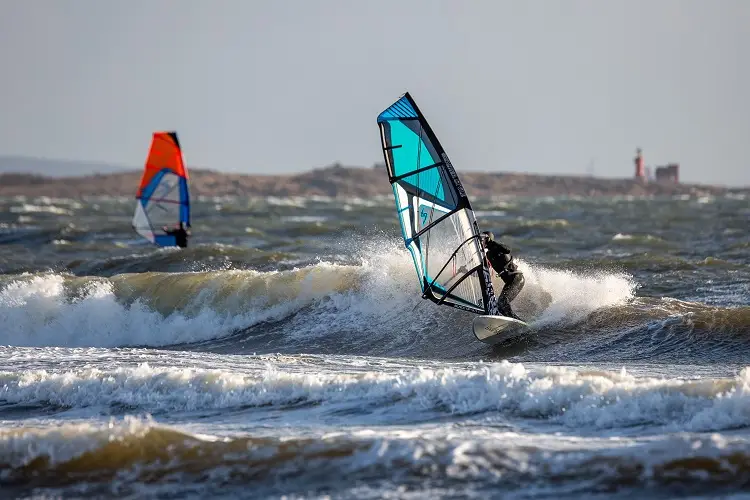 Goa's beaches provide excellent conditions for windsurfing, a thrilling blend of sailing and surfing. It requires a bit of skill, but even beginners can take lessons from experienced instructors. Feel the wind in your sail and the rush of gliding across the water as you master the art of windsurfing.
White Water Rafting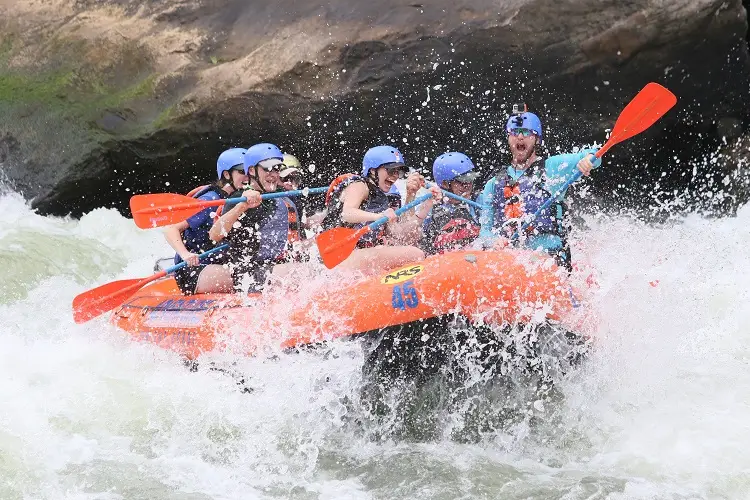 While not a traditional water sport associated with beach destinations, Goa offers white water rafting experiences in its wild rivers. The Mhadei and Mandovi rivers provide challenging rapids for adventure seekers. It's an excellent option for those looking to add an adventurous twist to their Goan vacation.
Kneeboarding
Kneeboarding is an exciting water sport that is a great stepping stone for beginners before trying activities like wakeboarding or water skiing. In kneeboarding, you kneel on a board while holding onto a towrope as a speedboat pulls you across the water. It's an enjoyable and less challenging introduction to two sports.
Flyboarding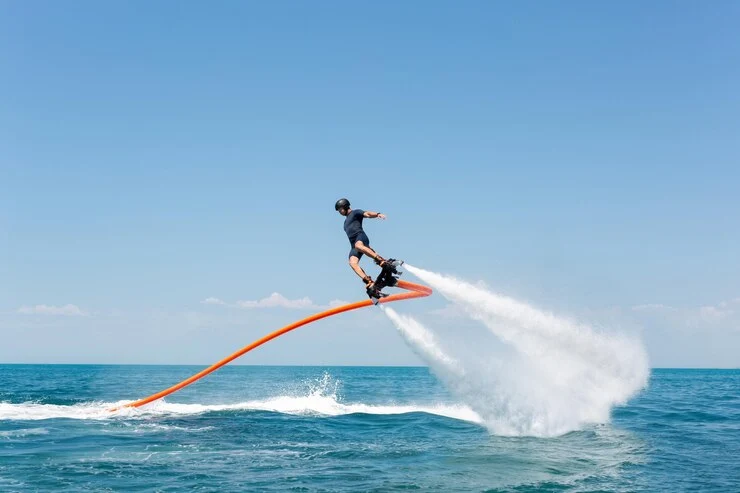 For the ultimate thrill-seeker, flyboarding is a must-try activity in Goa. You'll be strapped to a board that's connected to a jet ski, allowing you to hover above the water, dive in and out, and perform impressive aerial stunts. It's like being a superhero soaring above the sea.
Goa's diverse water sports offerings cater to all levels of experience and adventure preferences. Whether you seek the thrill of speed or a more tranquil connection with nature, Goa has something to offer. Remember to prioritize safety by choosing reputable operators and wearing the necessary safety gear. So, if you're planning a trip to Goa, make sure to include these exciting water sports activities in Goa in your itinerary to create unforgettable memories in this coastal paradise.

Where to Stay in Goa to Enjoy Most of These Water Sports Adventures?
The majority of the water sports activities are in the Northern part of Goa hence, we recommend you plan your stay at any of the hotels in North Goa for easy accessibility. If you want to experience a perfect blend of luxury and adventure, we recommend some of the luxury resorts in North Goa where you can book your stay and add some sparkling stars to your trip.
If you are a person who likes theme-based things or places, we recommend you book your stay at White Flower Cottages which is a theme resort near Vagator Beach. The whole resort is based on the theme of white flowers and you get a soothing environment just as you enter into the property.
If luxury is your major preference, you can choose Prive by White Flower, which is a private pool resort in North Goa and known for offering luxurious accommodations to their guests with exceptional hospitality services. White Flower Morjim is another resort near Morjim Beach which boasts luxury with affordability.
All the recommended places to stay in Goa are located nearby to the adventurous sports activities. We can assure you that all these properties offer modern amenities by prioritizing the needs of their guests through their experienced staff.
Contact us:+91 9359983588