Goa is a tourist destination in India that remains packed with tourists almost the whole year. People visiting this beautiful state come here to experience the beauty of its beaches, and thrilling water sports, attend parties from dusk to dawn and get booze.
There is no dearth of bars in North Goa. Enjoying booze at one of the beaches facing the bar in Goa always remains an item on the bucket list of travellers. It is a tough task to choose the best bar in North Goa out of too many options.
Here, in this blog, we will explore why White Flower Cottages is the Best Cocktail Bar Near Vagator Beach North Goa.
A Great Place To Spend a Beautiful Evening
Why do we visit the bar? The simple answer to this question is to socialize and forget your queries for the time being. The ambience of the in-house bar at White Flower Cottages is such that will force you to enjoy every single moment that you spend here.
        | Contact us for more information: +91 9359983588
Whether you are a solo traveller or visiting Goa with a group of friends, this Cocktail Bar Near Vagator Beach North Goa would be the perfect place for socializing and spending a beautiful evening while chit-chatting.
Offers a Variety of Drinks
The Goa trip remains incomplete if you have not experienced an alcoholic drink or if you are a pro at getting booze. Goa is not only famous for domestic and international cocktail drinks but also for the local drinks of Goa such as Feni.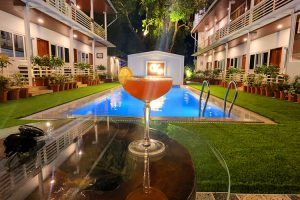 At White Flower Cottage's bar, you will be able to enjoy all these drinks under a single roof. Is there any friend of yours who does not drink? No issues as this bar offer never-ending options for soft drinks too.
Located in the Heart of Goa
White Flower Cottages is the Best resort near Vagator beach North Goa. Vagator is an area that is regarded as the heart of Goa and can be easily accessed from all the places. If you plan to enjoy your evening at this bar, you can easily reach here and create some unforgetful memories.
This bar organizes various parties and concerts for their guests regularly that will act as icing on the cake.
Time is No Foundation Here
If you are a person who is looking for a place in Goa where you can visit and have alcohol in the middle of the night. This place is the perfect option for you. The bar at White Flower Cottages serves drinks to their guests round the clock which makes it the best cocktail bar near Vagator Beach North Goa where you can enjoy without thinking about the time.
Final Words
By concluding our discussion, we think we have provided you with enough reasons that make the White Flower Cottages not only the best place to stay in North Goa but also the best cocktail bar near Vagator Beach North Goa.
We strongly suggest you plan your stay at White Flower Cottages whenever you visit Goa the next time to experience their extraordinary hospitality services.
       Contact us:+91 9359983588