When you think of Goa, what things strike your mind? It must be the beautiful sun-kissed beaches, adventurous water sports, local Goan cuisine, fascinating nightlife, never-ending parties, and river cruises. So many activities to enjoy in Goa entice tourists from all parts of the globe.
Do you want to visit Goa but have a restraint of time due to your personal or professional commitments? Come on!!!! you can plan your trip to Goa on a long weekend too where you can enjoy it to the fullest.
Are you confused about how to plan your travel for such a short span where you can visit its famous places and feel the real vibes of Goa? You are at the right place as through this blog, we will provide you with an ultimate 3 Days travel guide to North Goa.
Here we will explore the places majorly of North Goa as most of the visitors who want to feel the real vibes of Goa head to this part as compared to South Goa.
    | Contact us for more information: +91 9359983588
Places to Visit in North Goa
There are a plethora of places to visit in Goa that are worth exploring. Below is a list of some of the places to visit in North Goa if you want to experience the essence of this smallest state of India to the fullest. Take a look at the below places to visit in North Goa in 3 days.
Beaches
Vagator Beach, Anjuna Beach, and Baga Beach are some of the famous beaches of North Goa where the majority of tourists travel during their trip to Goa. On these beaches, you can enjoy thrilling water sports, enjoy sunbathe and explore the coastline of Goa while witnessing the alluring view of Sunset.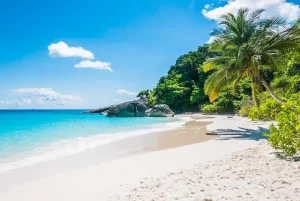 We recommend you choose your place to stay in North Goa near these beaches to save your time commuting from one place to another. Also, the majority of the tourist places are in the close vicinity of these beaches, hence you can be able to access easily such places if you plan your stay in Vagator or Anjuna. There are various resorts in Vagator, North Goa where you can plan a comfortable stay with your family or loved ones.
Basilica of Bom Jesus
You should never miss this place while planning a 3 days trip to Goa. The Basilica of Bom Jesus was established in the year 1605 and reflects the historical heritage and Portuguese culture of the state. Generally, this church is referred to as Old Goa Church by local people. This is the final resting place of St. Francis Xavier which is a major thing that pulls tourists towards this place.
Local Markets
We assume that you must be visiting Goa for 3 days on a long weekend. The weekend vibes of Goa are incomparable and your zeal can become higher with getting the opportunity in the local night markets. The Arpora night market in North Goa is a famous local market that is a weekly market held on Saturdays. Here you can pick up fashion accessories, trendy outfits, ornaments, leather products, etc.
Anjuna Flea Market is another local market that remains full of tourists shopping for different things. You can head to this market on any day of the week to fill up your suitcase with some new stuff to become a fashionolic.
Fort Aguada
Fort Aguada is a 17th-century old Portuguese fort in Goa. This fort is named Aguada which means 'water'. This fort gets its name because of a freshwater spring located inside the premises. If you are in Goa just for 3 days, you should not miss this place to visit to know about the history of Portuguese reign in Goa.
Book your stay now: +91 9359983588
Things to Do In 3 Days in Goa
Below is the list of things to do in Goa on your 3 days vacation to Goa.
Try adventurous and thrilling water sports.
Get on a cruise in the Mandovi River
Try your luck at Casino
Experience the nightlife of Goa at any of the famous clubs in North Goa.
Relax at the beaches.
Where to Stay in Goa?
If you are spending 3 days in Goa, the accommodation you choose must be perfect as it can add some more stars during your vacation and can enhance your comfort. We recommend you plan your stay at White Flower Cottages which is the best family Resort in North Goa.
his resort is based on the theme of rare species of white flowers that offer make you to experience the real essence of Goa. The staff of this property is highly committed to offering you the finest hospitality services, a wide range of accommodation options (Garden View Rooms, Pool View Rooms & Suite Rooms), the best amenities, and direct access to the swimming pool where you can relax for hours after an exhausting day while exploring Goa.
The in-house bar and restaurant of White Flower Cottages serve dishes and drinks native to different parts of the globe. They remain open round the clock where you can satisfy your midnight craving while chitchatting with your family & friends.
Final Words
However if you visit Goa just for 3 days or for a full week, the time can never be enough due to the plethora of places to visit and numerous activities to enjoy as this small state possesses high party vibes. However, this quick 3-day travel guide to North Goa will help you in enjoying the spirit of Goa in just a short span.
We know that the implementation of covering all the places and activities could be somewhat hectic, however, it would be equally alluring and fascinating when you can be able to create lifetime memories and enjoy your vacation with the help of this Travel Guide to North Goa.