Do you always remain overburdened in your work or professional life? Are you unable to spend enough time with your family members? If your answer to both these questions is affirmative, you need a break or vacation to cherish some moments with your loved ones.
You can plan a trip to Goa with your families due to its alluring vibes and fascinating cultural heritage. Goa is termed a "Land of Beautiful Beaches" which makes this place one of the perfect tourist destinations in India to enjoy vacations with your family.
If you are planning a family trip to Goa, you must be looking for a place to stay in Goa. Yes!!!! you are at the right place as through this blog, we will recommend the best family places to stay in North Goa.
White Flower Cottages
Nowadays, people prefer those things which are based on a particular theme. Be it a party, wedding, birthday celebration, or resort to stay in, a specific theme always attracts more people. Don't you find it appealing to stay in a theme-based Resort in North Goa?
White Flower Cottages is based on the theme of rarely found white flowers. Just after entering this resort, you find the surroundings so relaxing, that adds some additional spark to your vacation. You can sit along the poolside for hours to spend some private time with your family members.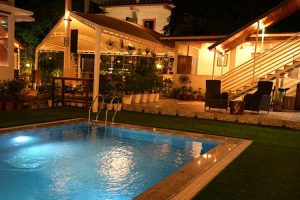 This resort is located just around a half kilometer from Vagator Beach, which is one of the most famous beaches in North Goa. If you plan to stay at this resort, you will be able to easily access other prime tourist locations of Goa such as Anjuna Beach, Anjuna flea market, Chapora Fort, etc.
Book your stay now: +91 9359983588
This resort is also having an in-house restaurant and bar. You can order dishes and drinks from both places round the clock to satisfy your appetite.
There are majorly 3 types of accommodation available in White Flower Cottages that are Garden View Rooms, Pool View Rooms, and Suite Rooms.
Whispering Palm Resort
Whispering Palm Resort is one of the best family resorts in North Goa where you can get a comfortable and cozy stay. The major amenities of this resort are numerous such as exceptional hospitality services, the finest swimming pool and mouth-watering multi-cuisine dishes.
They also organize music concerts and other events which would be enough to feel party vibes in Goa.
Goa Marriott Resort & Spa
Do you only rely on such a resort that is located on a global level? If yes, you should choose to stay at Marriott Resort & Spa which is located in Panaji. This family resort in North Goa hosts guests from various parts of the world and due to this; they have the best hospitality in Goa.
This resort is the perfect blend of comfort and peace where you can spend the best quality time with your family members.
contact us for further information: +91 9359983588
Baga Beach Resort
If you are looking for a place to stay in North Goa with your family near the beach, you can choose to stay at Baga Beach Resort. This resort is located very nearby to the famous Baga Beach which you can visit just by walking.
The surroundings as well as the hospitality services of this resort are enough to make you feel refreshed and to get rejuvenated.
Final Words
So, now you have a proper list of the Best family places to stay near Vagator beach North Goa. All these resorts and hotels are unique on their own. However, I would term White Flower Cottages as one of the best family Places in Vagator Beach North Goa.
There are certain reasons why this resort gets an upper hand over other places. One of the major reasons is that as it is based on the theme of white flowers, you can feel the real essence of Goa. Another reason is related to the price of stay as middle-class people can also afford a stay at this resort due to its reasonable places.
So, pack your bags and head towards Goa to enjoy these vacations to relax your mind and rejuvenate your soul with endless memories.
Contact us:+91 9359983588